In the domestic production of belt conveyor manufacturers are many, generally divided into heavy-duty belt conveyor manufacturers, light belt conveyor manufacturers. Although some heavy-duty belt conveyor simple structure than light belt, but the general transportation is a high proportion of material, large transport capacity, durable, long service life, its cost is much higher than the light belt confidential, because of heavy belt conveyor need to withstand the weight level or bulk material transport, if the quality is a little bit worse. And soon scrapped; light belt conveyer, mainly conveying grain like materials, such as wheat, corn, pumpkin, vegetable and fruit and other materials, the cost will be much lower, but to transport sand, cement, gravel, conveying not much, the equipment will be broken. Before you met this customer, transportation concrete, sand, gravel, what, in the pursuit of belt conveyor, the low price everywhere inquiry, lower prices, as long as you can think conveying material on the line, and finally find a lowest price for manufacturers, production of belt machine for grain, with not long almost scrapped, but also wasted time, go out to buy equipment, the cost of as can be imagined.
Sand belt conveyor
Gravel structure difference, and some particles of uniform thickness, and some sizes vary; some gravel in the debris grinding roundness is very good, and some gravel in the clastic edges and corners are distinct. Sandstone is a loose matter, but its particles are generally more hardness, and in the surface environment, the chemical properties of stability. For sandstone, its weathering resistance is generally stronger, especially after silicified quartz sandstone, its hardness is more than granite.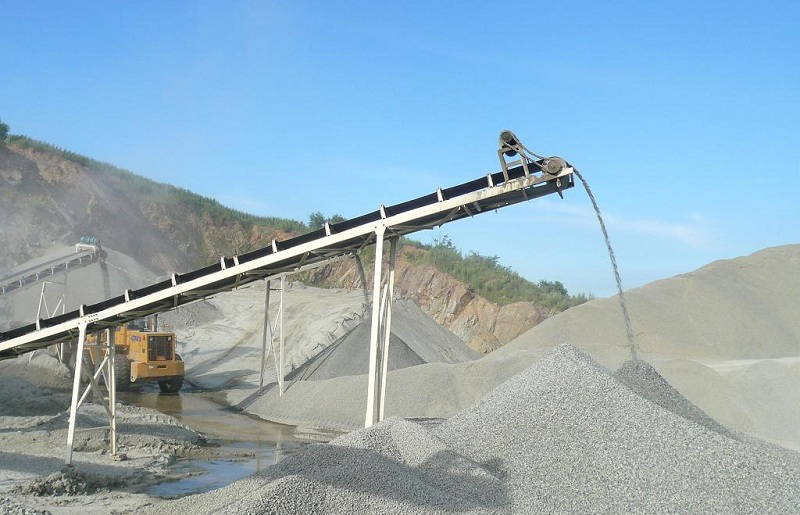 Quarry equipment, including crusher, vibrating feeder, vibrating screen, sand washing machine, belt conveyor and so on. Sand can also be made with suitable configuration.
Sand making equipment, including vibrating feeder, jaw crusher, cone crusher, solid impact crusher, sand washing machine, belt conveyor and so on.
Sand mill production flow:
The process of sand and gravel production line is as follows: (silo) ---- feeder - jaw crusher - counterattack crusher - vibrating screen ---- (finished product). The machines between them can be connected by conveyors. As the scale of sandstone production line can be large or small, the price is based on scale, first of all, the cost of mining permission, and the main output is sand and gravel.
The production line of sand making line is as follows: (silo) - feeder - jaw crusher - cone crusher - three-dimensional impact crusher (sand making machine) - sand washing machine - (Cheng Pinsha). The machines are connected mainly through conveyors to the production line. A closed loop can be formed to improve the utilization ratio of resources.
Henan Xinxiang Jin Rui mining equipment manufacturing in nearly 20 years of experience in sand production line equipment, can produce: circular vibrating screen, vibrating screen, belt conveyor (moving conveyor, belt conveyor, large angle belt conveyor), vibrating feeder, welcome customers to come to consult, provide equipment for processing customized to customers.